During autumn, spring and summer holidays
Sport & language camps take place on school holidays et are dedicated to children from 3 to 14 years old.
Sport & language camps are organized with door-to-door transportation.
Sport & language camps are organized on a weekly basis from monday to friday during the whole day.
Language classes on mornings
English lessons are organized by the club.
Thanks to our fun and based on oral expression teaching method, children learn English in the same way we learn our native language. Program is based on role plays and fun activities.
All teachers are all English speakers and have experience in teaching to children.
Energy Kids Academy proposes an adapted program to each child, whatever his age and level.
The lessons are intensive and lasts 2 hours each morning during one week. They are organized in small groups of 4 to 6 children to boost children involvement. The children, of the same English level, are immersed themselves in the English language.
A serious and skilled language teaching with :
Teachers speaking in their native language
Adapted programs to children and their school program
A quick improvement thanks to intensive classes in small groups
Sports lessons on afternoons
Our club proposes sports instruction following our innovative way of teaching in :
Sports lessons are given by our qualified coaches in small groups of 4 to 6 children maximum, from initiation level to more advanced and competition.
The way of teaching follow the fundamentals of the Sartoris method, first sports instruction pedagogy dedicated to children. Get to know more about the Sartoris method & philosophy here !
Indoor & outdoor sports
Sports lessons are given on indoor and outdoor court and all year round whatever the weather. The cold or the rain don't bother in any ways the running of the school. Get to know more about our sports club facilities !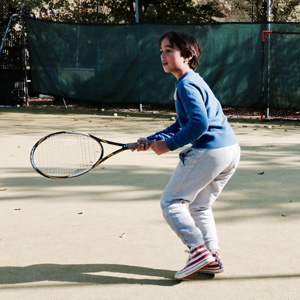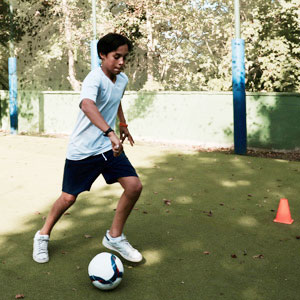 After lessons, leisure sports !
Our sports instruction method is based on learning through play and multisport program.
Then, after sport & language lessons, children can enjoy different other sports activities :
• basketball
• tennis table
• elasto trampoline
• mini zip line
These leisure sports especially appeal to children and enable them to enjoy lots of different sports and activities after a demanding instruction at the sports & language camp.