During summer and school holidays
Tennis camps take place every school holidays and are dedicated to children from 3 to 14 years old.
During autumn holidays, the club is open from October 17th to November 1st 2020
During christmas holidays, the club is open from December 19th to January 3rd 2021
During winter holidays, the club is open from Ferbuary 13th to February 28th 2021
During spring holidays, the club is open from April 17th to May 2nd 2021
During summer holidays, the club is open from June 21st to September 2nd 2021
Tennis camps are organized with door-to-door transportation.

The club is open everyday and propose 3 different sessions : morning, afternoon or day session.
AUTUMN
CHRISTMAS
WINTER
SPRING
Customized enrollment
Tennis camp enrollment is made « à la carte ». According to their age and timetable, children can be enrolled in day camps either on morning session, or afternoon session or all day session.
You organize your own agenda to fit your personal time schedule.
Enrollment is made ahead of time but totally free, You can enroll your children for consecutive days or not… and change every day of sessions either morning, afternoon or all day.
Some children are enrolled on all day sessions all the week, others only a few afternoons.
Tennis lessons
Tennis lessons are given by our qualified coaches in small groups of 4 to 6 children maximum.
The way of teaching follow the fundamentals of the Sartoris method, first sports instruction pedagogy dedicated to children. Get to know more about the Sartoris method & philosophy here !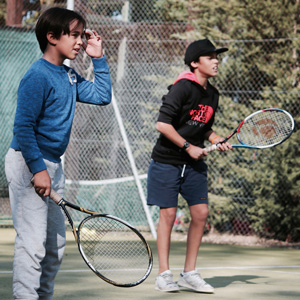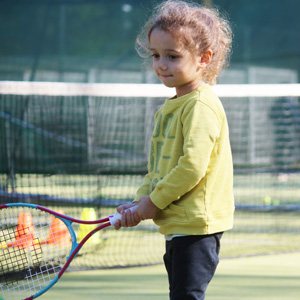 Tennis coaches
Energy Kids Academy guarantees a high level of tennis instruction given by our coaches :

• Highly-qualified
• Respectful with children
Tennis courts
The academy owns 2 outdoor artificial turf courts and 2 indoor courts, one in clay and one in artificial turf.
For the young kids, a huge wooden chalet of 700m2 offers an indoor and heated tennis area.
Tennis lessons are given all year round whatever the weather. The cold or the rain don't bother in any ways the running of the school.
Tennis & more !
Children can have a multisport instruction added to the tennis one as the main sport. Depending on the choice of the session (morning, afternoon & day session), children can choose 1 sport… 2 sports… or 3 sports for thoses who are interested !
| | | | |
| --- | --- | --- | --- |
| Sports instruction | MORNING | AFTERNOON | DAY |
| TENNIS only | x | x | x |
| TENNIS + soccer | x | x | x |
| TENNIS + golf | x | x | x |
| TENNIS + soccer + golf | | | x |
After tennis, leisure sports
Our tennis instruction method is based on learning through play and multisport program.
Then, after tennis lessons, children can enjoy different other sports activities :
• basketball
• tennis table
• elasto trampoline
• mini zip line
These leisure sports especially appeal to children and enable them to enjoy lots of different sports and activities after a demanding instruction in tennis.
Have a look at the schedule of a tennis camp session at the club !