Lionel Sartoris, CEO and founder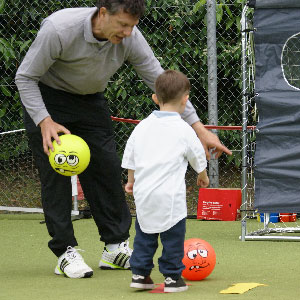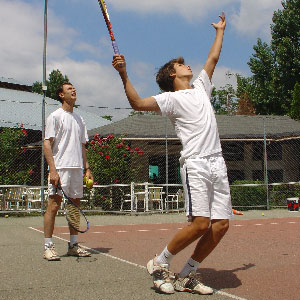 For 30 years, Lionel dedicated his professional life to sports and children.
After a junior career in the USA where he took part in every international tournaments as the Orange Bowl, he was singled out by Ion Tiriac who gave him women tennis players' training like Virginia Ruzicci winner at Roland Garros in 1978.
After a few years spent in the USA, he came back in France. Thanks to his personal experience as a professional tennis player and as a top-level trainer, he created in 1983 the first tennis school for kids in Paris with door-to-door transport service.
Soon, he realizes that sports instruction for children lacks of children understanding and pedagogy. Teaching to children is specific and highly different from teaching to adults !
Thanks to a 30-year experience, he creates the first sports teaching method dedicated to children with adapted equipment and facilities, and coaches with a great experience in psychopedagogy.
Lionel still manages the unique private sports club exclusively set part for children in Paris, constantly developing an innovative pedagogy applied to children from beginners from 3 years old.
Sports lessons following Sartoris Method
Following to 30 years of experience and research, a complete program has been developed to create the first sports teaching method for young children from 3 years old.
Discover an overview of the fundamentals of the method :
Objectives :
– Promote the needs of a child to play sports
– Develop their physical skills and sports techniques
– Share the main sports values and skills to let each child earn self-confidence, essential for school and future professional life
Educational program :
– A 100% sports program to maximize and compound benefits from each sport, those brought by the taught sport (tennis, golf, soccer) as well as those brought by leisure sports.
Educational approach :
– Individualization and personalization of the collective instruction to benefit from the 2 teaching ways
– Creation of a trustful relationship between the child and his coach, essential for a high level of learning
– A complete and progressive educational program adapted to the development level and process of each child for all the sports taught
Educational material :
– A rich and innovative equipment adapted to the specific needs of young children.
– Hundreds of exercises have been developed at our academy in many sports and follow the different steps of the educational program.

Get to know more !

Come and meet us at club Energy Kids Academy ! We will be pleased to welcome you to explain and demonstrate on site the Sartoris method.