During all holidays
Tennis competition & tournament camps take place each holiday (autumn, christmas, winter, spring and summer) et are dedicated to children from 8 to 14 years old.

For school year 2023-2024, the dates for Intensive Tennis camps are :
During summer holidays, the club is open from June 19th to September 3td 2023
During autumn holidays, the club is open from October 21st to November 5th 2023
During christmas holidays, the club is open from December 23rd to January 7th 2024
During winter holidays, the club is open from February 10th to February 25th 2024
During spring holidays, the club is open from April 6th to April 21st 2024
During summer holidays, the club is open from June 24th to August 31st 2024
Intensive tennis camps are organized with door-to-door transportation.
These tennis intensive camps are organized on a weekly basis from monday to friday during the whole day.
A competition team open to everyone
Intensive tennis camps are dedicated to children from 8 years old.
These camps were designed to prepare young children to the French Federation of Tennis tournaments.
Contrary to many other clubs, our tennis competition team, which teaches discipline and tenacity, is open to any child willing to try competition and tournaments.
This specific training forms a bond between the pleasure of play and the one of winning an objective, a personal challenge, a FFT ranking, confronted to other children.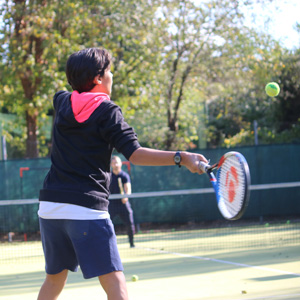 An intensive tennis training
The groups are made with children of the same level and trainings prepare to the official FFT tournaments.
These groups follow a precise program established on the level and age of the children. The program is divided up into 2 parts : physical preparation and tennis training (from technical to strategic aspects)
Training sessions last about 2 hours and take place 2 times a day.
Intensive tennis camps were designed to :
Develop the spirit of sport and the pleasure of competition
Use technical acquisitions in real conditions
Construct their tennis play around a match (strategy & concentration)
Tennis courts
The academy owns 2 outdoor artificial turf courts and 1 indoor courts, one in artificial turf.
For the young kids, a huge wooden chalet of 700m2 offers an indoor and heated multisports area.
Tennis lessons are given all year round whatever the weather. The cold or the rain don't bother in any ways the running of the school.