A multi sports academy
Energy Academy stretches out over a green 5 acres park where everything has been thought out for children. Many sports facilities enable children to enjoy a lot of sports activities safely such as TENNIS, GOLF, SOCCER.
For the three main sports taught, tennis courts, a golf range, a golf putting green and soccer fields are available for children.
For the others sports activities, supervised by our coaches but not taught, the academy provides basketball court, quad and karts with pedals, trampoline, elasto-trampoline, bouncy castles, table tennis, outdoor heated swimming-pool, baby gym room...
The club house provides children with a 220m2 area totally dedicated to them in which they can take a break for leisure time and where they have lunch. Discover the clubhouse !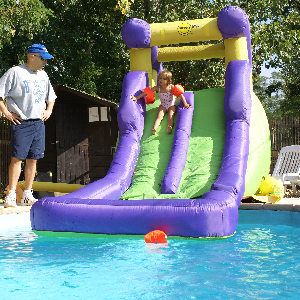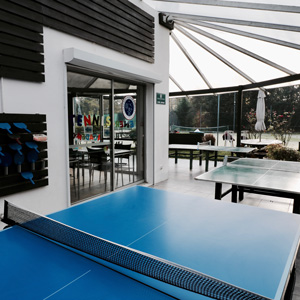 Outdoor courts and indoor heated courts
Tennis and soccer courts as well as golf range and putting green are indoors and outdoors. The academy owns outdoor courts and indoor courts for each sport.
For the young kids, a huge wooden chalet of 700m2 offers an indoor and heated multisports area.
Lessons are given all year round whatever the weather. The cold or the rain don't bother in any ways the running of the school.
For their comfort, children are hosted during winter in indoor areas, and when the weather is good, they can play sports outdoors and enjoy greenery.
Sports facilities adapted to children
For 30 years, Energy Academy applies a fundamental in pedagogy, either for the equipment used or for the sports facilities :
› Adapt sports to children and not children to sports.
Consequently, the academy has been entirely designed for children's use : adapted equipment, safe sports areas and facilities, a special teaching method thought out and applied to children.
The academy offers classic sports facilities for older children as well as areas totally adapted to young children from 3 years old.