A clubhouse for children
For meals and leisure time, a 220m2 clubhouse hosts children in an indoor area specially dedicated to them.
For lunch and snack
Children who stay at the club for the full day session can have lunch and snack in the restaurant with the coaches. For the children enrolled for half a day (either mornings or afternoons), snacks are served at the club house.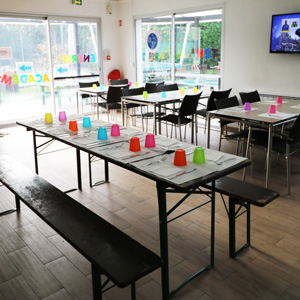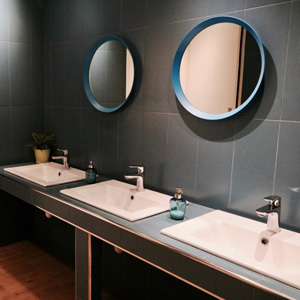 For leisure time
At lunch break between 12:00 am and 2:00pm, children can relax in the clubhouse. A library with books and magazines for children, board games, drawing material, favorite movies in DVD as well as cartoons are available for children's use.
The clubhouse has been designed according to the children's age distinguishing an area for older children from an area for younger children with tables, chairs and sofas adapted to children size.
To play sports
The baby gym room in the clubhouse enables young children to develop their motricity. A sporting break that young children especially appeals to.
They roll, climb, jump, turn, learn to move.
Moss carpets, cubes, stairs, beams, tunnels, child-friendly laps… As many colored and funny facilities and equiment thought out so that young children can play safely under permanent supervision of the instructors.